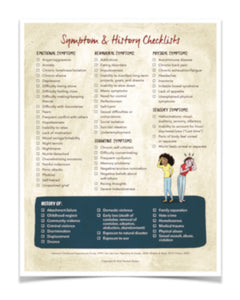 This single-page, comprehensive Trauma Symptom & History Checklist is a diagnostic super-star! By sharing the list with clients (new and old) and discussing its relevance to their presenting problem(s), you will begin to orient with new clarity to even the most mystifying symptoms. Understanding the myriad of ways in which trauma presents is enormously relieving to clients and therapists alike. Knowing where you are is the first step in knowing how to move forward!
This checklist doubles as a treatment measurement tool. By administering it at the start of a treatment and at regular intervals thereafter, you and your client(s) will be able to track progress over time - noting which symptoms have resolved and which remain in play. You will want to keep a blank one with you at all times for use with new clients, and create copies/reproductions to fill-out and store in your on-going case files (to measure progress). 
This tool is laminated for protection and longevity.