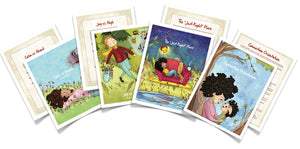 Buy all 4 for only $30!
This set of 4 vivid, 2 sided (8-½" x 11") treatment tools comes with complete scripts for guiding clients. Intended for frequent, repeated use, these will help even your most traumatized clients. For visually-oriented clients, each one comes with a large, brightly-colored image to illustrate the concept.
Scripts are laminated for protection and longevity.